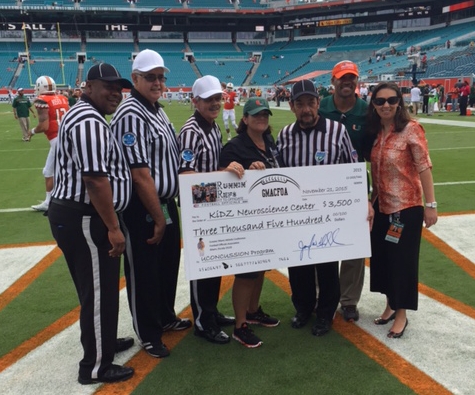 Learn more and watch the 2015 Runnin' Refs 5k Run/Walk video
The Runnin' Refs is a group of referees from the Greater Miami Athletic Conference football officials (GMACFOA) that participate in a 5K run/walk, raising money and helping GMACFOA officials get fit for the season.
This year is the sixth year for the Runnin' Refs and the GMAC Football Officials chose this year to donate $3,500 to the UHealth KiDZ Neuroscience Center at the University of Miami to support ongoing research of the UConcussion program.
The donation was presented to Dr. Gillian Hotz, Director of the Center and one of the program coordinators Ray Crittenden and Jennifer Strawley from UM Athletic at Sun Life Stadium on November 21st, prior to the Hurricanes' game against Georgia Tech.
Jerry Gomez, President of the GMACFOA stated, "Giving these funds to the KiDZ Neuroscience Center at UHealth Sports Medcine for study on concussions and other head trauma aligns directly with our goal as officials to help prevent concussions in football through rules changes and our proper enforcement of those rules."
"All of us at UHealth Sports Medicine appreciate this donation from the GMAC football officials. We were there with them when they ran. It was a fun day and they really showed they are fit to officiate," added Dr. Hotz.
Joe Underwood, past president of the GMACFOA, stated, "The GMACFOA worked over 450 football games this season, but we do a lot more than just officiate football games. We help the community and will continue to do so."