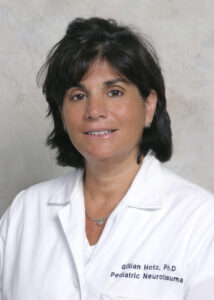 Gillian A. Hotz, Ph.D.
Gillian A. Hotz, PhD is a research professor at the University Of Miami Miller School Of Medicine and a nationally recognized behavioral neuroscientist and expert in pediatric and adult neurotrauma, concussion management, and neurorehabilitation. She has extensive experience in neurocognitive testing and is licensed and certified to perform ImPACT, a computerized neurocognitive screening to assess mental status following a concussion.
Dr. Hotz has been the director of the UHealth Concussion Program since 1995 and director of the KiDZ Neuroscience Center since 2001. She continues to assess and treat many athletes from Miami-Dade County public and private high schools, University of Miami, and from other colleges and the community.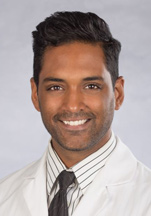 Mohan Kottapally, M.D.
Dr. Kottapally is an Assistant Professor of Clinical Neurology and Neurocritical Care, as well as Associate Director for the Department of Neurology Residency Program. Having earned his MD from The Pennsylvania State University College of Medicine, Dr. Kottapally subsequently completed Neurology Residency at the University of Miami and Jackson Memorial Hospital. He has also served as Administrative Chief Resident for the Department of Neurology here at UM. Following residency training he further pursued his passion for Neurocritical Care by completing Fellowship training at The University of California San Francisco.
Dr. Kottapally is highly interested in traumatic brain injury, sports related neurotrauma and medical education. He has been involved in numerous research studies as well as educational initiatives for medical students and residents, and is excited to bring these passions back to the University of Miami.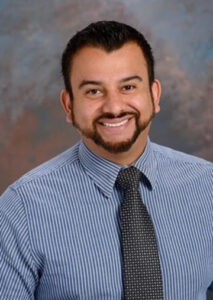 Abraham A. Chileuitt, M.D.
Dr. Chileuitt is a board certified neurologist and fellowship trained in sports neurology. He has extensive experience in sports and exercise sciences.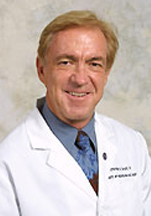 Stephen E. Olvey, M.D.
Dr. Olvey was for many years the Director of Neuroscience Intensive Care at Jackson Memorial Hospital. He has published extensively in the area of high-velocity sports medicine as well as lecturing internationally in Europe and South America. He was made a Founding Fellow of the newly formed FIA Institute for Motor Sports Safety in Paris, and as such is actively involved in research on an international level.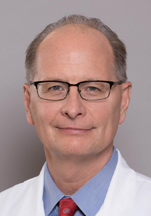 Thomas Best, M.D, Ph.D.
Dr. Best is a board certified family medicine physician. Dr. Best provides comprehensive patient care using the latest advancements in sports medicine.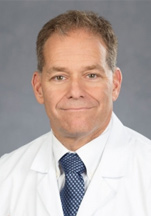 Michael Hoffer, M.D.
Dr. Hoffer began studying traumatic brain injuries while serving in the military in Iraq, with support from the Office of Naval Research, Army Medical Research and Materiel Command and the Department of Defense Hearing Center of Excellence.
His latest research capitalizes on the University of Miami's experience in traumatic brain injury and collaboration between UHealth's Otolaryngology Department and The Miami Project to Cure Paralysis.
Dr. Hoffer's research focuses on early detection and level of severity measurements of mTBI in professional, college and high school athletes and personnel from U.S. military units outside of a hospital setting with the use of I-Portal PAS goggles. Currently, the main method of testing patients involves tests that are only available at medical centers. However, due to Hoffer and his team's work, the I-Portal IPAS goggle has been outfitted with software that includes diagnostic tests that can determine, at the site of injury, whether the patient can return to the field or needs to seek further medical attention.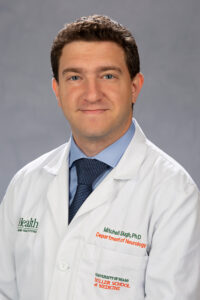 Mitchell Slugh, Ph.D.
Dr. Slugh is a clinical neuropsychologist who specializes in the evaluation of traumatic brain injuries across the lifespan. He also utilizes cognitive rehabilitation techniques for treatment of concussion.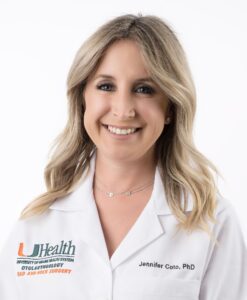 Jennifer Coto, Ph.D.
Dr. Coto is a pediatric psychologist who specializes in concussion and pediatric health and developmental disorders. She provides consultation services as well as neuropsychological evaluations.
Her research focuses on improving the diagnosis, management, and outcomes of concussion in both pediatrics and adults.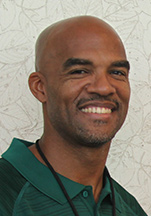 Raymond C. Crittenden, MSc.
Ray is a concussion research coordinator with UConcussion, and a graduate of Virginia Tech where he was a three sport athlete (football, basketball, and soccer) at the college. Later, Ray would play 6 years in the National Football League (NFL) for the New England Patriots, Carolina Panthers, and San Diego Chargers.
After his professional sports career, Ray completed his Masters in Biomedical Sciences and has been conducting Clinical Research at the University of Miami for 5 years in oncology.
Ray joined our team in May 2013 and is currently studying for medical school.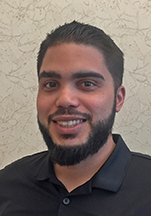 Gabriel Acanda
Gabriel is responsible for coordinating patient appointments for our Miami-Dade clinics. He assists with training, education and outreach events for the program.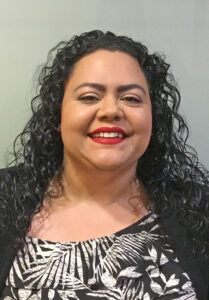 Gema Obando, MSc.
Gema is the Master Scheduler for our Palm Beach County Concussion clinics. She has over 8 years of customer service at the University of Miami and assists with our outreach events.