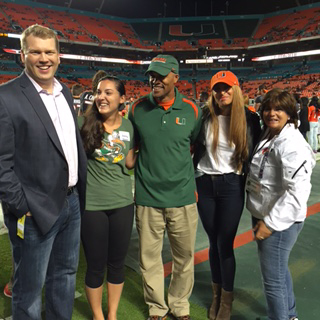 This Thanksgiving weekend, Chris Nowinski, president of the Sports Legacy Institute (SLI), met with the UConcussion team and WQAM Sports Radio 560 to speak about the work and research currently ongoing at SLI.
WQAM's commentator Don Bailey Jr. interviewed Chris about Sports Legacy's program, its studies, and SLI's development of preventative measures to protect athletes and other groups at risk of concussions.[imageframe lightbox="yes" style_type="none" bordercolor="" bordersize="0px" borderradius="0″ stylecolor="" align="right" link="" linktarget="_self" animation_type="0″ animation_direction="down" animation_speed="0.1″ class="" id=""]
[/imageframe]
Chris' meeting also served to congratulate the UConcussion team for the development of the SLICE Concussion Education video, presented by UConcussion's program coordinator, Ray Crittenden, a former NFL player.
The 15-minute video presentation is based on the SLICE PowerPoint curriculum and has made it possible to present SLI's concussion prevention information anywhere. The video is scheduled to be released next week on YouTube, soon to be viewed by high school football teams throughout the country.