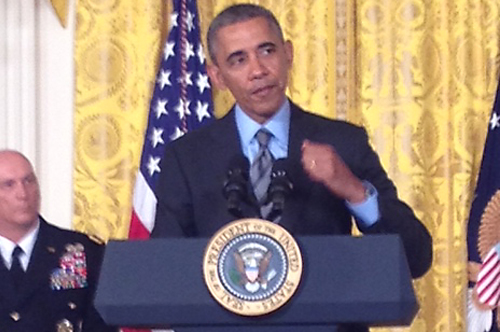 Gillian Hotz, Ph.D., research professor of neurological surgery, Director of the UHealth Sports Medicine Concussion Program and of several programs at The Miami Project to Cure Paralysis, attended the White House Healthy Kids and Safe Sports Concussion Summit on May 29. Joining her were young athletes, coaches, parents, NFL players, military representatives and other stakeholders.
President Barack Obama spoke to the group and outlined the Summit's goals — advancing research on sports-related youth concussion and raising awareness of steps to prevent, identify and respond to concussions in young people.
"UHealth Sports Medicine and the KiDZ Neuroscience Center at The Miami Project are at the leading edge of the efforts to properly manage concussions, especially in our young people," said Dr. Hotz. "Having the President highlight this critical issue significantly increases awareness, education and research, which are essential components to improving concussion management in youth sports."
Dr. Hotz was selected by the Office of President Obama to attend this summit and to represent the University of Miami's extraordinary accomplishments in prevention, education and treatment of youth concussion. As a leader in pediatric brain injury, she has been nationally recognized for her efforts directing the KiDZ Neuroscience Center.
For many years, Dr. Hotz and her multidisciplinary team have been able to develop evidence-based pediatric injury prevention programs (WalkSafe, BikeSafe, SkateSafe) and Miami-Dade County's Countywide Concussion Care® Program, funded by Ransom Everglades School, a high school concussion education, prevention and treatment program now used as a model throughout the U.S.
The program consists of training and education of athletic trainers, coaches and athletes; pre-season baseline testing; sideline screening; medical clinic management at UHealth's Sports Medicine Division with gradual-return-to-play guidelines; and a concussion injury surveillance system.
Click here to watch the May 29th summit video on C-SPAN Online.
Click to read a transcript of President Obama's summit speech.